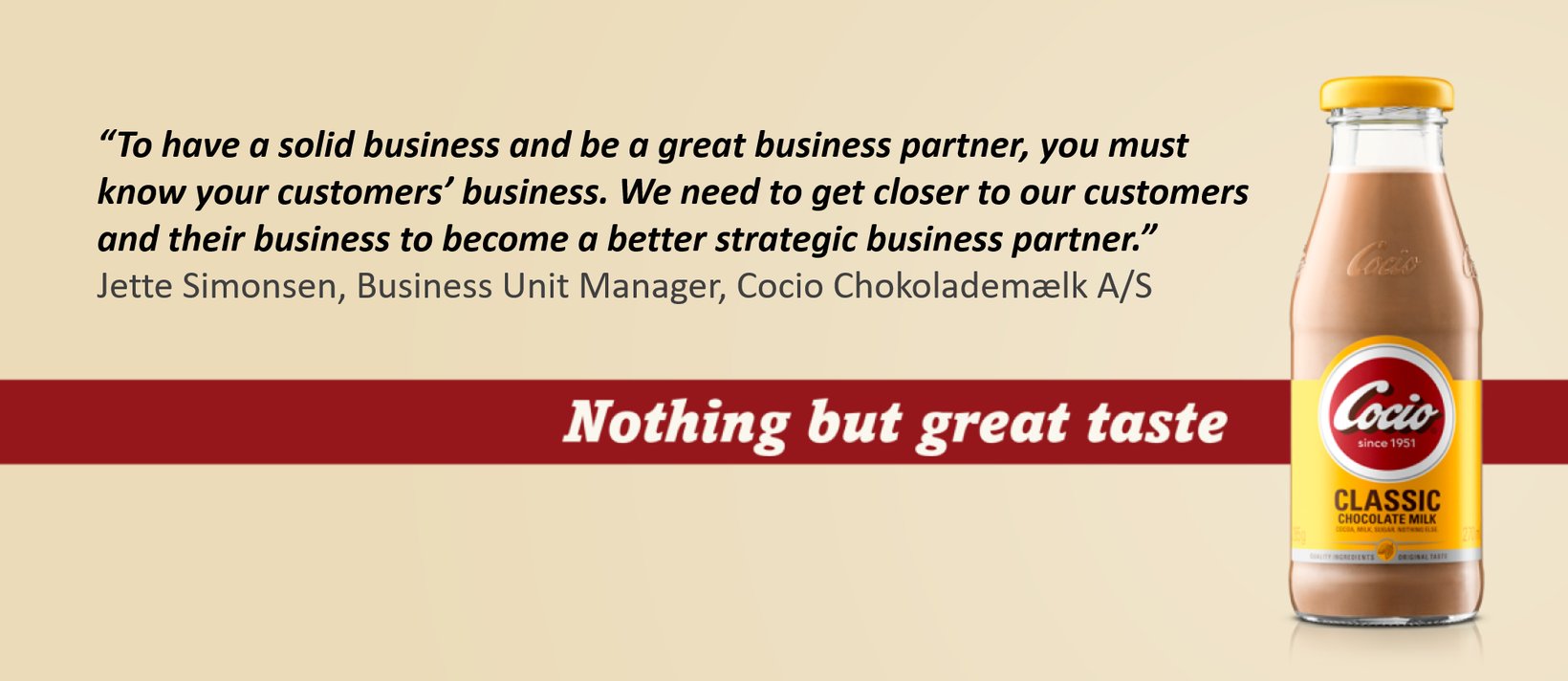 COCIO IMPROVED THEIR CUSTOMER RELATION AND OPTIMIZED FORECASTING WITH 25%

Why Cocio uses effectmanager
Effectmanager is the most important tool Cocio uses for trade promotion management. From having a promotion overview to forecasting and accruals, all data is aggregated in effectmanager. The effectmanager solutions provide validity to the data, as everyone accesses the same data without double inputs. This takes away the uncertainties associated with each employee having data in different excel-sheets.

The primary reason for choosing effectmanager was;

Get control of our own total business across the customers.
Get insight into our customers' business, allowing us to have a fact-based dialogue with the customers about future improvements.

Effectmanager has meant a great deal to our business in terms of unifying data for our finance and forecast.

Jette Simonsen, Business Unit Manager, Cocio Chokolademælk A/S

Better planning and more accurate forecast
Cocio has a solid business and their Key Account Managers are engaged in every step of business from promotion planning to forecasting. But Cocio still needed to get closer to their customers and their business, to become a better strategic partner. They needed an overview of trade promotions across customers and insight into which promotion mechanisms were preferable for the double profit line. Cocio started using effectmanager in 2013, to get rid of Excel-sheets and get a promotion overview. Today all data is aggregated in effectmanager and Cocio uses the software solution as the most central tool for alignment of data used for forecasting and finance.

Though we were very engaged in the promotion planning process and forecasting, we have improved our forecasting by 25% using the effectmanager solution.
Jette Simonsen, Business Unit Manager, Cocio Chokolademælk A/S


With effectmanager, Cocio has a complete overview of all trade promotion across customers, chains, segments, products, and periods. Cocio now has insight into which promotion mechanisms and what periods are optimal for each customer's profit. All data from historic sales to new promotions are aggregated with effectmanager. This has made it easy to evaluate promotion mechanism with each customer. With promotion planning meetings across sales and support, promotion plans are validated with each customer and Cocio adjusts their forecast accordingly based on these meetings. Effectmanager has provided Cocio with the insights they needed to optimize their trade promotion process and aligned both data and internal processes.
A better strategic partner
Integration with POS data provides Cocio with a great deal of knowledge about their customers' business on Cocio products. Reports from effectmanager provide Cocio with data-driven argumentation, that justifies their in-store product range and placement. With the reports from effectmanager, the buyers are provided with promotion insights, that make it easier to make decisions about the coming promotions based on facts rather than gut feelings. Having better trade promotion insight has made Cocio a top-of-mind supplier.
In the beverage category in Retail, Cocio has a small market share. We have a bigger influence on promotion than our category share entitles us. This is because we can guide and advise our customers, based on reports from effectmanager. We get more promotions because we can show our customers their profit with each campaign.
Jette Simonsen, Business Unit Manager, Cocio Chokolademælk A/S
Using effectmanager Cocio can be a better strategic business partner, not only with the category buyers but also in each store. With reports from effectmanager, sales consultants can build business cases to support or challenge their placement in-store. Cocio uses easy-to-understand POS reports to advise their customers about utilizing the correct placement to increase sales.
Data from effectmanager is of great use for our sales consultants. Simplicity and clarity in reports and data is the key when presenting a business case to store personal. They have little time to understand the results presented to them. And when the results are based on data from their own Datawarehouse, it provides them with more certainty in making decisions.
Jette Simonsen, Business Unit Manager, Cocio Chokolademælk A/S

Advantages for Cocio
Effectmanager provides an overall view of trade promotions. We can now manage our promotions and have a full P&L of our promotions.
Effectmanager provides us with a better understanding of our customers' business. We have become a better business partner and supplier. Through this knowledge base, we are now able to optimize our customers' profit – and our own.
We have optimized our forecast by 25% using effectmanager.
We have improved accruals based on data from Effectmanager
---
Do you want to know more about how you can improve your internal processes and optimize your forecasting?

Fill out our contact form, and we will book an online meeting with you.
Disclaimer: Cocio no longer uses effectmanager for its trade promotion management.