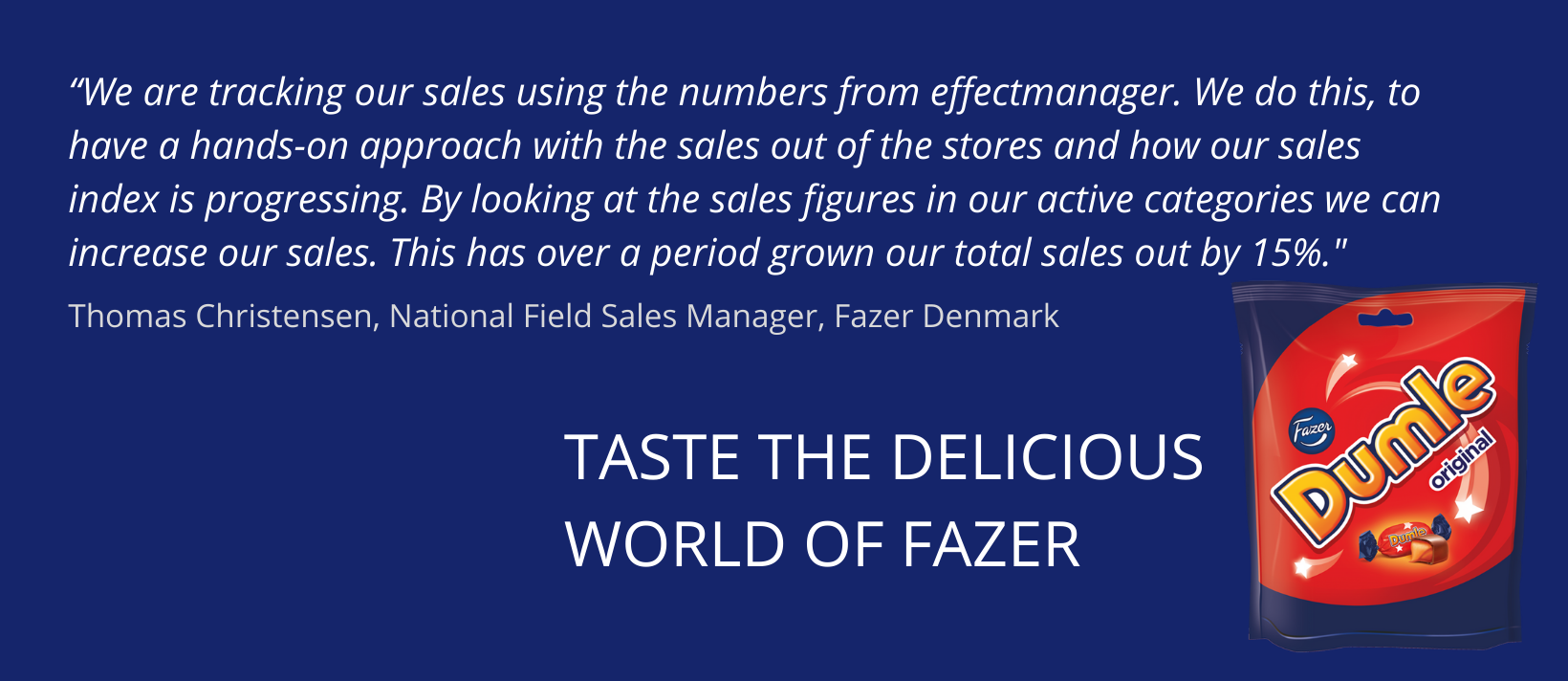 HOW POS DATA HELPED FAZER GROW THEIR CATEGORY SHARE INDEX BY OVER 40%

Why Fazer uses effectmanager
With effectmanager, Fazer has improved their internal sales processes and their ability to solve issues. Having Point of Sales Data across wholesalers aggregated in effectmanager has provided Fazer with the key for solving challenges, building strong business cases, and improving their joint business with customers. Effectmanager integrates perfectly with all other Fazer systems and provides both Key Account Managers, National Field Sales Manager, and Field Force with the needed insight to grab the low hanging fruit for improving sales.
The way effectmanager compliments the entire organizations across departments help improve all areas of business.

The effectmanager solution was a significantly more economical and easier-to-use software. The software allows all of us to work in effectmanager at the same time. Effectmanager is easy to use and time-saving compared to our old software. In this way, effectmanager has provided us with more time and better finances.


Peter Christensen, National Key Account Manager, Fazer Denmark



With POS data Fazer found low hanging fruit to improve their sales
Fazer's sound market position is solidified by the positive growth within the confectionary category. That has allowed Fazer to explore other areas of business while still securing growth within the confectionary category. But even with positive growth within the confectionary category, Fazer sought to improve its sales through better data insights. By implementing effectmanager in 2019, Fazer got a software that integrates with other essential systems within Fazer. Exporting sales and promotions to Genero is a key factor for all Field Force employees to be well prepared before each store visit. This data insight enables them to have an improved dialogue with the individual grocer. Over the last couple of years, Fazer has solidified their position on the market and has a sales index above 180 across customers and categories.
By investing in POS data and SaaS software to aggregate your data, you will improve your business insight and find low-hanging fruits that will boost your sales. This insight will improve not only your own business but also your customers' business. Point of Sales Data is used by Fazer's Field Sales department, both in the field and in the office. The National Field Sales Manager uses the business insights from their customers' sales data to solve challenges. The data also shows new areas of business by identifying low-hanging fruits where products performing great, in general, can be transferred to other business areas.
With this data we can spar with each other about challenges. This enables us to solve issues together by discussing them based on the POS data. If the challenges wasn't visible to us through the data, we would not know how to grow our sales. By looking at the sales data, all sales opportunities and actions becomes transparent. We know why our sales is developing as it is. With data we can find the possibilities for optimizing our joint business.

Thomas Christensen, National Field Sales Manager, Fazer Denmark

effectmanager helped improved dialogue and internal processes
Effectmanager has become a very important administrative tool for Fazer. The software has improved their internal processes as it allows both Key Account Manager, Feld Sales Managers, and Sales Consultants to work with it across departments and at the same time. By looking into the sales figures, Thomas Christensen and his Field Force colleagues find proof in the data. Successes from one region, chain, store, or product can, with the proper preparation, be transferred to other regions, chains, or stores, which is one of the success areas that has contributed to the growth for Fazer. The goal is to be a competent and strong business partner for their customers and improve their joint business.
If you have your facts straight from the data, you can look at how the sales development is for each store. If it is not up to the chain index, we can help the store elevate its sales and reach chain index. Increasing our customers' sales is as essential for us as growing our sales. By looking at the numbers, we try and visualize it for the customers. This way for one customer we have grown our category share index to over 140, in a category that has index 93 looking at 2020. If the numbers are available, why not use them?

Thomas Christensen, National Field Sales Manager, Fazer Denmark
By doing so, Fazer solidifies their position within the confectionary category and grows its assortment range. With data, Fazer can show growth potential for other products without cannibalizing on their products in the category. This way Fazer has increased their category share within confectionery over the past years. Fazer uses online POS reports like Chain potential POS reports to find opportunities for increasing sales.
With effectmanager, Fazer has found the proof in point of sales data to improved and strengthened the assortment in stores. Using sales figures from effectmanager, the Field Force can visualize the turnover Fazer products can contribute to the individual grocer. Using POS data has helped Fazer get a broader assortment listing and improve their own and the grocer's joint business. By looking at the grocer's data, the dialogue is improved and based on facts and not gut feelings. This way Fazer Field Force becomes store advisers. This way, Fazer has expanded their assortment with a customer within one Product Brand from 4 to 7 products, and the Product Brands Category Share Index is today 121.
The numbers does not lie. In this example the Grocer might loose 10.000 in turnover on a Fazer product, that has a profit of 30%. These 3.000 are lost maybe to another products. But if the only have 10% profit on that product, then they have lost profit on the bottom line. Money that help pay their bills. This is how we visualize for the Grocer how we can contribute to their profit.

Thomas Christensen, National Field Sales Manager, Fazer Denmark
How baseline sales helped Fazed optimize promotion sales in
Aggregating all Point of Sales data across wholesalers have provided Fazer with in-depth knowledge of how to optimize baseline sales and promotion sales. The Key Account Managers' dialogue with the category buyers has improved, and agreements about promotion sales-in are now based on data insights and not on gut feelings. Agreements about promotion quantities are especially significant for the stores that the Fazer Field Force does not visit. The promotion sales in these stores are 100% dependent on the amounts they have agreed on with the chain.

Our Promotion sales are dependent on how well our Sales Consultants perform in stores and which placement they get for the promotion. For the store, that we do not visit the quantities we agree on with the category buyer is very important for how the promotion performs.

Peter Christensen, National Key Account Manager, Fazer Denmark
By combining point of sales data with promotion data in one SaaS Software, you will reap all the benefits. Today Fazer can look at their long terms sales statistics and use these to simply identify how large quantities the Sales Consultants must focus on in the Promotion Sales tour, to have a successful promotion. With effectmanager integrating with Genero, it is very each for each Sales Consultant to know how their performance goals.
It is super efficient to use effectmanager. It is very easy to copy past promotions to other weeks when you run a lot of the same promotion types. After they are copied, you can quickly change the promotion discount. You get a complete overview compared to handling it all in Excel.

Sune Legaard Olsen, National Key Account Manager, Fazer Denmark


But baseline sales are not the only contributor to improving promotion sales quantities. By having effectmanager, finding the areas of improvement and following up on both baseline and promotions sales is easier for Fazer. It provides them with a tool for planning and an overview of promotions. Today Fazer is not using effectmanager to its fullest potential. But they are already very impressed by the results created and are planning to integrate effectmanager deeper within the promotions processes.
Next step for Fazer
Even though effectmanager has already created great results for Fazer concerning their sales, they are ready to implement the effectmanager software even more in their Promotions Processes. Today Fazer uses the effectmanager tool for promotion planning and overview. In the coming year, Fazer wants to use the effectmanager TPM tool even more. They will use data from effectmanager for customer presentations, analysis, and optimizations to improve their Trade Promotion business even more.
Our goal for 2021, is that we internally will chase the best performing promotions from the previous years. We will make sure that we have clear success criteria for each promotion, so the Sales Consultants and Key Account Managers will know the KPI for success. These success criteria will be based on promotion data from effectmanager where we can analyze and follow up on must win battles.

Peter Christensen, National Key Account Manager, Fazer Denmark

Advantages for Fazer
The biggest advantages of using effectmanager have been:
Effectmanager is time efficient and a good financial investment to show Fazer how to optimize sales in each category and for specific products.
Fazer has improved both promotion sales and baseline sales through POS insights and grown its sales by 15%.
The Online POS report Chain Potential in effectmanager is one of the mails reports for find sales and profit potential in each chain across the different districts.
With data insights Fazer gets KPIs that can increase sales out of the stores, improving volumes in general and for specific product brands.
Effectmanager is easy to use with an intuitive user interface and very useful for every employee compared to previous tools.
---
Do you want to know more about how you can improve your sales index, by finding low-hanging sales opportunities, and become store advice and improve your customer joint business?

Fill out our contact form, and we will book an online strategic meeting with you.