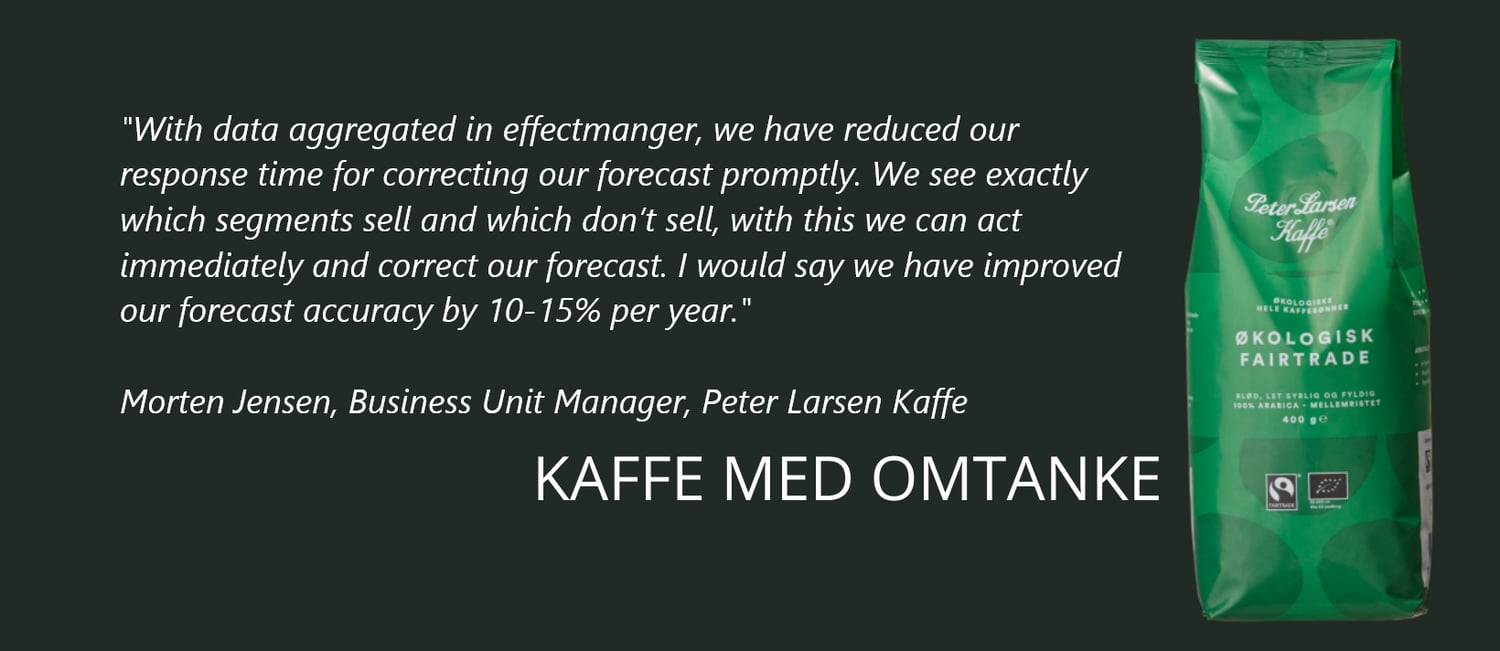 PETER LARSEN KAFFE GAINED AN OVERVIEW AND OPTIMIZED THEIR TOTAL TRADE PROMOTION BUSINESS WITH MORE THAN 10%

Why Peter Larsen Kaffe uses effectmanager
For Peter Larsen Kaffe, effectmanager is the most valuable tool for handling aggregated trade promotion and sales data. From having an overview of promotions across chains and periods to prices and sales volumes. Effectmanager Trade Promotion Management Software is an essential tool for Peter Larsen Kaffe. It is used by Field Force, Key Account Managers, and Management as the single point of truth. Effectmanager removes all uncertainty about trade promotions agreements internally and externally.

With effectmanager, we get a complete overview of our promotions across the chains and periods, but we also have gotten insight into the product prices across the chains. Data from effectmanager is the base for the dialogue we have internally between different Business Units.

Morten Jensen, Business Unit Manager, Peter Larsen Kaffe

Better planning and more accurate forecast
Peter Larsen Kaffe has a strong business position in the Nordic market. They needed to get even closer to their core business and improve communication between the different business units in Peter Larsen Kaffe. In 2016 all of their trade promotion data was handled in different Excel-sheets and Word-documents, which made it hard to have a complete overview of finance, forecast, and general product and promotion data. Peter Larsen Kaffe needed software to help them aggregate all of their data. Today the effectmanager software solution provides Peter Larsen Kaffe with a comprehensive data overview used for trade promotion improvements and dialogue.
After we started using effectmanager, we have improved our internal processes. Each Thursday, we now have a Promotion meeting, where we go through all our promotions to secure they have the correct state in effectmanager. These meetings decreased the error margin by minimum 10% compared to handling our promotion data in Excel.

Morten Jensen, Business Unit Manager, Peter Larsen Kaffe
By implementing TPM software like effectmanager, you will improve your internal processes, as it becomes clear what processes are needed to ensure that data in effectmanager is the single point of truth. Improving internal processes will also improve other business aspects, such as trade spent, promotion profit, forecasting, etc..
As Peter Larsen Kaffe improved their Trade Promotion Planning process, they have also utilized their promotion and sales data to gain insights used for improvements. They have become aware of what product segments are in demand without basing it on a gut feeling but actual POS and Promotion data from effectmanager. Integrating POS data with trade promotion data, Peter Larsen Kaffe now gets a complete overview of their Promotion Finance. By decreasing their response time to react to changes in buying patterns, Peter Larsen Kaffe has improved forecasting accuracy. Improving forecasting accuracy is an essential success factor when your products have an expiration date. Peter Larsen Kaffe conducts all areas of business with consideration.
With data aggregated in effectmanger, we have reduced our response time for correcting our forecast promptly. We see exactly which segments sell and which don't sell, with this we can act immediately and correct our forecast. I would say we have improved our forecast accuracy by 10-15% per year.


Morten Jensen, Business Unit Manager, Peter Larsen Kaffe

Improved dialogue and reporting
Implementing effectmanager, for handling trade promotion data, the dialogue between different areas of business in Peter Larsen Kaffe has improved. With all data in one place, it has improved the dialogue with Field Force, as they only need to access one system to find all the promotion data they need for their Sales Tours, making it easier for the Sales Reps to perform well. Effectmanager has also improved the dialogue with and between the Key Account Managers as they discuss promotions on the weekly Promotion Meetings.
The new internal processes have also improved the dialogue with Management and made reporting on a management level even better. By using data from effectmanager, Peter Larsen Kaffe has improved the dialogue between business areas, reduced the error margin, and improved their reporting at management level.
Effectmanager is the focal point as we use it for business areas like Sales Administration, Marketing, Key Account Management, and Management Reorting. No matter what, effectmanager is the point of convergence.

Morten Jensen, Business Unit Manager, Peter Larsen Kaffe
Advantages for Peter Larsen Kaffe
The three biggest advantages of using effectmanager have been:
With effectmanager as the central data software, we have gotten an overview and insight that we would not be without.
The way effectmanager integrates with other systems is important for us it has been used to improve our dialogue and results.
We have improved our internal processes and thereby also improved our forecasting accuracy with our largest Customer by more than 15%.

Next step for Peter Larsen Kaffe
Peter Larsen Kaffe has created good results using effectmanager for their trade promotion management. Moving forward, they want to take it to the next level and analyze their promotion data even more to find improvements.
To me, even the name says it all. Effectmanager - it is the management of everything you do, and you see the results. Now we want to use effectmanager to its fullest. With the coming integrated PowerBI solution for effectmanager, we know that we will get an even more powerful tool for insight an analysis.

Morten Jensen, Business Unit Manager, Peter Larsen Kaffe
---
Do you want to know more about how you can improve your internal processes, reduce your error margin, and improve your trade promotion profit?

Fill out our contact form, and we will book an online strategic meeting with you.