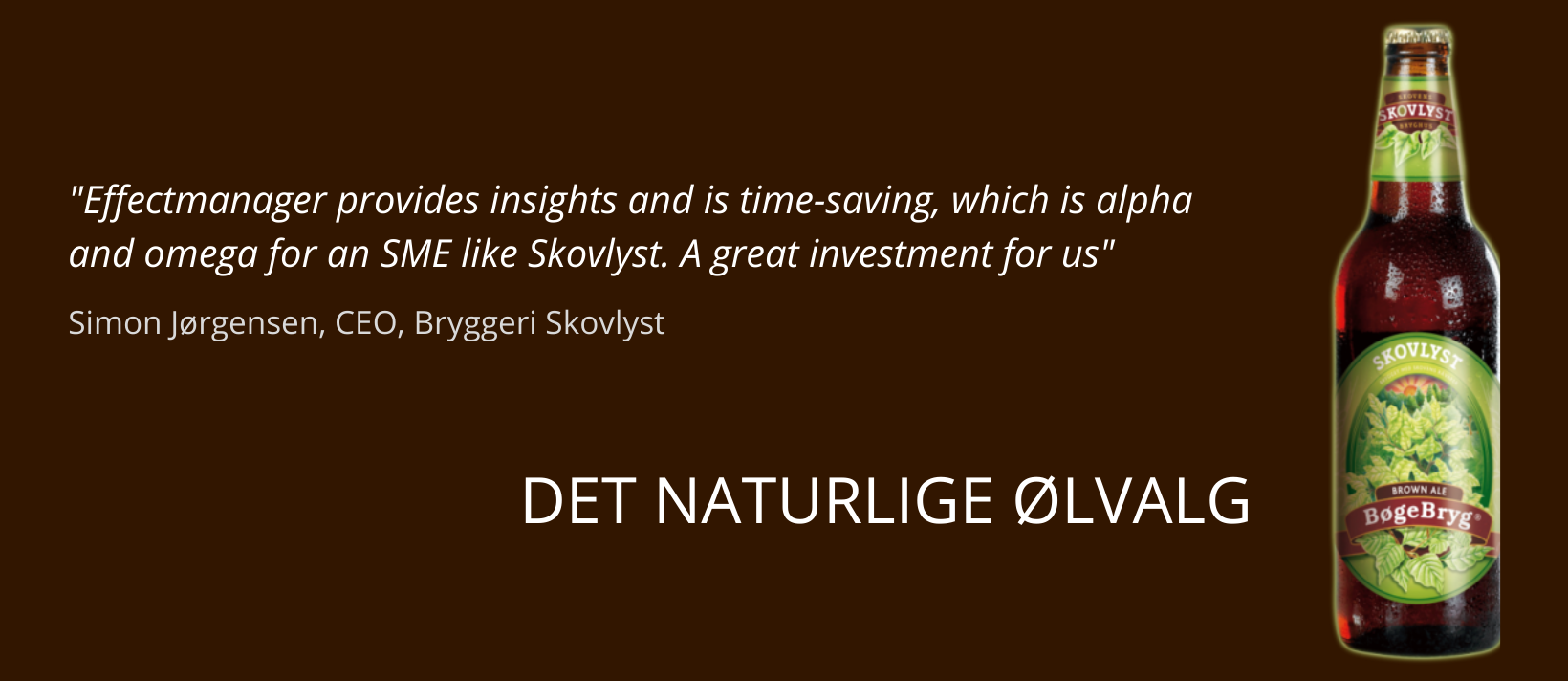 SKOVLYST GAINED A PROMOTION OVERVIEW AND IMPROVED THEIR BUDGETING PROCESS
Why Skovlyst uses effectmanager
In 2016 Skovlyst was in a position where they needed insights and an overview of their trade promotions. Skovlyst set-up was classic for a small-medium sized enterprise (SME) – they had employees, a Field Force, and a financial system, but they needed a tool to help them plan and structure their trade promotions. They needed a system that could reduce the margin of error you have when manually entering promotion and sales data in Excel. As their business grew, so did the need for keeping track of their new customers and promotions. They needed a system that they could trust.

To ud, it was very important that the system combined historical but also future promotions to keep track of our trade promotons in both the sort and the long run. With effectmanager it is easy to check that your promotion and sales data invoced from the wholesaler correspond with the figures on the promotion.

Simon Jørgensen, CEO, Bryggeri Skovlyst

Better overview and trade promotion planning
The business model of Skovlyst entails that the Key Account Manager is involved in all steps of the business, from promotion planning and assortment listings to forecasting and financial budgeting. But as the business grew, Skovlyst needed a tool that would get them a better overview and insight of their trade promotions. They needed a system that would reduce the margin of error they experienced by using Excel. Skovlyst needed insights regarding historical trade promotions, to plan future trade promotion with a better outcome, and to become better at forecasting. Today Skovlyst uses effectmanager to plan more effective promotions and to maintain a good dialogue with the buyers.
Though we are all involved in every step of the promotion planning process, using effectmanager, we have gotten an overview of promotions and products across chains. Getting insight into our customer's business has improved the dialouge we have with our customers.

Improved dialouge with the buyers has resulted in a higher number of promotions and more effective promotions. We have become top-of-mind with the buyers.

Simon Jørgensen, CEO, Bryggeri Skovlyst
Today Skovlyst has aggregated all trade promotion data in effectmanager and uses the software solution for planning future promotions based on historical promotions with a good outcome. With integrated POS data in effectmanager, it is easy for Skovlyst to evaluate the completed promotions based on the realized point of sales data from the wholesalers. Using realized POS data and historical promotion data for planning future promotions has removed the best guesses for Skovlyst. They now plan future promotions that are profitable for both them and the chains, as they have found optimizations in their past promotions. Future promotions are now based on actual promotion data and not on gut feelings from the Key Account Manager or the buyers.

Optimized reporting and budgeting process
Using effectmanager Skovlyst has become a better strategic partner for the category buyers, as they can act as advisors based on actual sales figures from the wholesaler's own POS data. Having actual POS data from the wholesaler, Skovlyst uses their POS cube for building easy-to-understand reports used for customer presentations. They find proof is in the customer's own data, which makes the dialogue with the buyers easier when planning future promotions. Getting closer to the customer's business and their own is vital to maintaining a good relationship as a strategic partner with their customers.
Skovlyst also utilizes POS and promotion data for internal reporting and budgeting. Having all data aggregated in effectmanager, it is easy for Skovlyst to export the data they need to build budgeting reports.
I use effectmanager as a budgeting tool in relation to our trade promotions, this is where the solution is most relevant for us.

Simon Jørgensen, CEO, Bryggeri Skovlyst

The five biggest advantages for Skovlyst
The five biggest advantages of using effectmanager for their trade promotion management is:
Effectmanager provides insights and is time-saving, which is alpha and omega for an SME like Skovlyst. A great investment for us.
Effectmanager provided an overview of our trade promotions. We now have a trade promotion tool to keep track of all promotions, both historical and future.
Information from effectmanager is used for budgeting in our financial system.
We can now optimize future promotions using historical promotions data and realized sales figures.
Data from effectmanager is used for customer reporting. It brings us closer to our customers as we have in-depth knowledge about their business and our own for each promotion.
---
Do you want to know more about how you can improve your internal processes, reduce your error margin, and improve your trade promotion profit?

Fill out our contact form, and we will book an online strategic meeting with you.